This page was last updated on: June 11, 2021
Single-Design Springerle Presses

SINGLE DESIGN SPRINGERLE PRESSES

"Bought #23 and could not be happier with it!  The detail is remarkable  and the whole image is just beautiful."  

Tom H., UT

$24 ea:  #17 Edelweiss  /  #18 Dogwood / #20-2 Cupid / #20-3 Cat

Springerle (springerli) molds (presses, boards)  for shaping German style springerle picture-cookies.  All are original, hardwood molds carved by woodcarvers Gene Wilson and/or Allen Buchheit.  

These smaller presses are easily used for printing those embossed, white cookies so popular at  Christmastime.  Many can be used as  Christmas tree ornaments - or to craft tree ornaments.

All 3.5 x 2.5"   Hardwood 

Initialed and dated with hanging hole on the backside   

$24 each:   #9 Stag / #14 Bird - Berries / #15 Butterfly

  #25  Trumpeting Angel 4.5 x 3"  Beech or Cherry Wood     $36.

#19-3 

Standing Bunny 

3.5 x 2.5"   $24.

Single-Design Springerle Presses

     We sell functional hand carved original collectibles, NOT mass-produced resin or plastic copies  

  American Crafted - Old World European Style and Quality - Universal Appeal

The cookie dough must be made rolled and stamped 12 to 24 hours before baking.

Springerle should be made on a dry day as high humidity prevents the cookies from drying properly.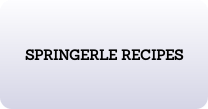 Click on "HOBI Hiker" Figure to CONTINUE TOUR.....  Next Stop: ABC Horn Book Replicas & Histories 

2.5" Square Ornament - Springerle Presses

 SQ-CK Celtic Knot, SQ-PD Peace Dove

Brass screw eye for hanging / Functional cookie press

15. each

Running Bunny

Springerles

 FS-19-2   $22.

FS-19-3  $16. 

FS-555 

 Sheriff

3.5 x 2.5" 

Cherry

$23.

Larger Carving of PIPER from Gene's 

12 Days of Christmas

#27  5 x 3" $32.

#124-AB 

Christmas Tree

4.5 x 3"  $31.

#112-AB 

Christmas Tree

3.5 x 2.5"  

$15.

47

YEARS IN

BUSINESS

1974-2021

Combine items from any of our web pages to make up a $120+ order to qualify for  FREE SHIPPING 

within USA when paid by check or money order.

Offer ends June 15, 2021


​Last Chance to order most of these items [carved by Gene] on this webpage ends 6/30/2021

​Last Chance to order most of these items [carved by Gene] on this webpage ends 6/30/2021

Allen will re-introduce some of these designs in 2022.